Queer Maps is an interactive, online map of LGBTQ organizations, bars, nightclubs, non-profits, shops, religious organizations, and cruising areas in Los Angeles from 1871-today. We stage interventions, commission new artwork, and produce events that engage directly with this history.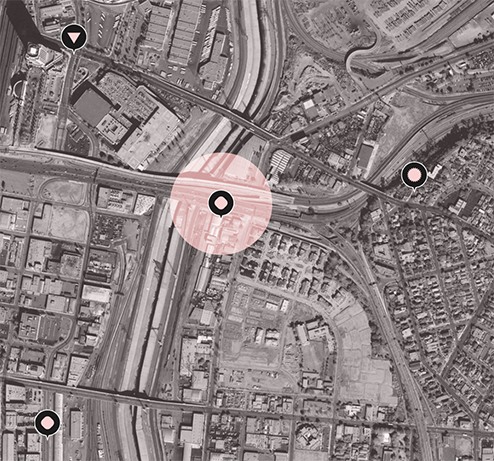 This mapping technology can be applied to other cities, and we hope to engage other cities to mine data and contribute to their own maps.
Queer Maps is project of the Fulcrum Arts' Emerge Fiscal Sponsorship Program. This project is completly reliant on donations from folks like you -- all donations are tax-deductible.
Our costs:
online database develpoment, server costs, and maintenance
labor to add new content, edit and maintain current content
expansion to other cities
We hope to keep the map fresh by continuing to add data, identifying trends, deepening credit and attributions, expanding to new cities, and providing the ability for users to create custom maps.
We are currently accepting volunteers for social media, data wrangling, and more.
Donate via Credit Card or eCheck
Queer Maps FAQ
Is my donation tax deductible?
Yes, we are a fiscally sponsored project of Fulcrum Arts Emerge Program, which is a public 501c3 organization recognized by the IRS. Your donation is tax-deductible to the fullest extent permissible by law.
WeDidIt FAQ
Is my donation and credit card info secure?
Yes, the security and confidentiality of your information is our highest priority. We will not sell, trade or share your personal information with anyone else, nor send donor mailings on behalf of other organizations, and we will only share personal information if you have given us specific permission to do so.
How do I know that my donation was made successfully?
You will receive an emailed receipt immediately after your donation is submitted and your credit card is processed. Your donation will also show up on your bank or card statement within 1-3 business days.
Do I get a receipt?
Yes, a receipt is sent to your email inbox once your donation is processed. Please be sure to keep a copy of your receipt for tax purposes. If you select a recurring donation, you will be sent an individual receipt each period when your donation is processed.
Is my donation private?
We will not share or sell a donor's personal information with anyone else, nor send donor mailings on behalf of other organizations.